5 Reasons Why You Should Consider a Gable Patio
Contact us for more information about building your next patio or carport.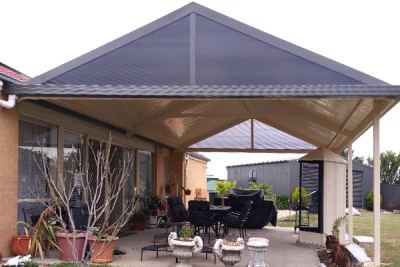 If you're looking for a new patio to compliment the aesthetic of your home, look no further than a gable patio. Stylish, versatile and a great way to add value to your house, a gable patio is a great investment into your property. Still not convinced? Here are some of our favourite reasons for why you should build this beautiful type of patio on your property.
The best patio choice for lighting and ventilation
A gable patio is a very practical patio choice. Compared to other roofing styles that are available, a gable patio will allow more light and air flow into your outdoor entertaining area. This makes it a more functional space, ready to tackle the Pilbara heat. The additional headroom under the patio allows for air and heat to free flow in and out of the structure, which is beneficial to the ventilation in the area. 
It's a stylish and popular solution
Everyone has different tastes when it comes to their home, but a gable patio is a uniquely stylish addition to your space. Unlike other patio designs, a gable roof patio add more flair to our outdoor entertainment space, and it often compliments the preexisting peaks on the roof of your home.
Built for all spaces, no matter how big or small
A major advantage of installing a gable patio is that they can be built into narrow spaces. If you're limited on the space you have available on your property, the angled roof of a gable patio will allow you to adjust its size to fit even the smallest area.
A gable patio reduces heat
When you're living in the Pilbara, finding ways to reduce the heat is always a priority. The pitched design of a gable roof deals with the hot, Australian summers much better than a standard flat roof. The sloping sides of its roof allows the sun to strike the roof more indirectly, so it does not heat up as fast.  
Water carrying performance
We often talk about the hot Pilbara summers here at Pilbara Sheds, but another thing to consider is the wet season. A gable patio roof is the best roof option to help water efficiently run off your roof. The angled design gives water a clear channel to run off. With the correct planning, your patio can even be utilised as a part of your home's overall rainwater solution. 
More Information
Learn more of our different patio options on the Pilbara Sheds website or through our supplier, Fair Dinkum Builds. Alternatively, feel free to give our team a call on 9185 1089 or submit an online contact enquiry, and we will be more than happy to answer any questions you may have.