Australian Cyclone Rating System and Your Pilbara Shed
Cum sociis natoque penatibus et magnis dis parturient montes, nascetur ridiculus.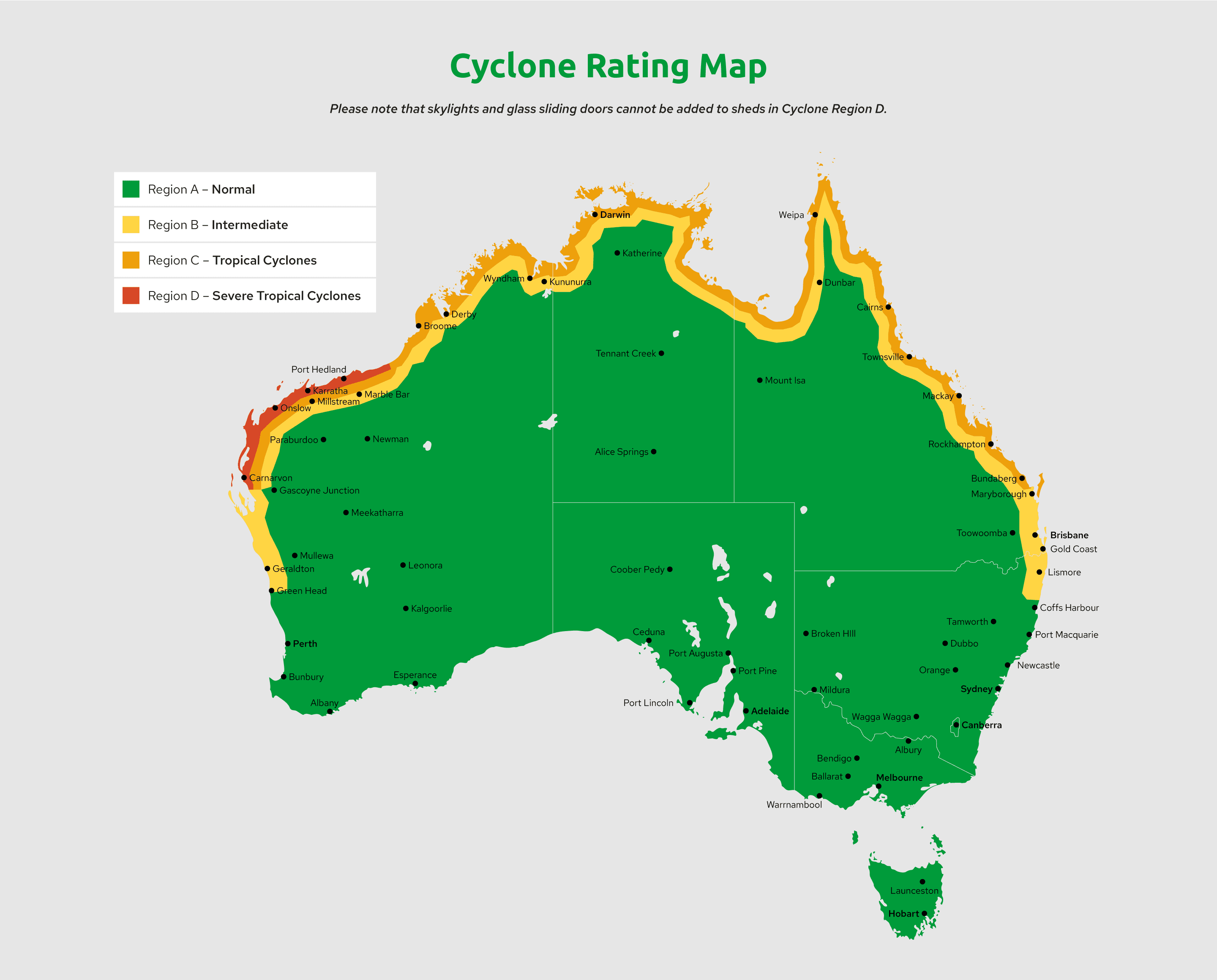 As a member of the PIlbara community, unpredictable and extreme weather conditions become a part of everyday life. Every part of the North West region faces differing challenges in relation to the weather, but one major challenge that most of the Pilbara region faces is the threat of cyclones. 
At Pilbara Sheds we take cyclone safety extremely seriously. Our experienced team have a good understanding of the differing cyclone ratings that impact buildings within the region such as sheds, patios and other standalone structures. 
How High is Our Cyclone Risk?
The Bureau of Meteorology (BOM) suggest that the region between Broome and Exmouth within the North West of Western Australia is the most cyclone-prone region on the entire Australian coastline. Because of this, it is important to have an understanding of the rating system in your area and ensure your buildings all meet the required safety standards.
Within Australia there are four major cyclone ratings that impact the entire country. These are:
Region A –  This region within Australia is classed as "normal". This means there is no to low risk of immediate danger as the result of a cyclone. 

Region B – This region is classed as "intermediate" where the risk of a cyclone is moderate.
Region C – This category is classed as "tropical cyclone" which means there is a risk of tropical cyclones which can be more damaging to property and homes.
Region D – This is the most severe category where "severe tropical cyclones" are at risk. 
When is Cyclone Season?
Throughout Western Australia BOM recognise cyclone season as the period between November and April every year. However, they do note that very few cyclones have ever occured during the month of November.  
Be Prepared For Cyclone Season in Your Area
The most important thing in regards to cyclones is to be both prepared and informed. Local governments such as the City of Karratha have information available on their website to help you get prepared for cyclone season.
The City of Karratha suggest that in an emergency listen to your local radio station or local television for more information regarding the cyclone and when to act. Local State Emergency Services, the BOM Facebook page and council Facebook pages are also a great way to stay up to date with the situation. By ensuring you follow the correct emergency service and local government departments on social media before the season begins means you will have the best chance to stay well informed throughout a period of concern. 
Cyclone Ratings and Pilbara Sheds
When it comes to building your shed, patio or other building structure, Pilbara Sheds always keep cyclone ratings and safety as a major priority. Our structures are built to withstand whatever the Pilbara has to throw at it. This means you can build your shed with peace of mind that your building and the contents inside will be damage free.  
For more information regarding cyclone safety or to receive an obligation free quote submit an online contact form and someone from our team will be in touch!