Big Business: Commercial, Industrial and Mining Sheds
Contact us for more information about building your next patio or carport.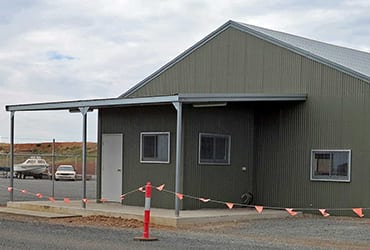 Looking to build a new shed for your business in 2023? Whether you fall within the commercial, industrial or mining industry, Pilbara Sheds have shed options available to all businesses operating out of the Pilbara region. Being a business based in Karratha ourselves, we have the localised expertise on what is required for large and commercial products suitable for local businesses in the region. 
Create the Perfect Commercial Shed
When it comes to commercial sheds, we've seen it all. From a small shed on your commercial property, to bigger sheds converted into office space, there isn't a commercial shed that we can't build. Our team works with you to bring your vision to life, no matter how small or large, we will custom-build your shed to tick all the boxes for your business. Our commercial sheds will allow you the space you need for your business, and compliment your brand. Our products are built to stand the test of time and to withstand the extreme Pilbara environment, meaning your investment is protected for a long time to come. 
Versatile and Customisable Industrial Sheds
A shed is a versatile solution for a business who bases their operations out of the Pilbara. When it comes to sheds for your business, a Pilbara Sheds product can be built to be an industrial-sized warehouse. If you're looking for a cost-effective and flexible solution that is building code compliant, safe and durable, then our industrial products are for you. We can work with your team to purpose-design your next build to suit your business requirements. Big enough to house what ever industrial size equipment you require, but with the flexibility to create your ideal business solution. 
Building the Biggest Mining Sheds
Mine sites are a unique working environment. Usually in rural and isolated locations, and with large size requirements, our team are experienced in creating sheds suitable for the mining industry. Our mining sheds can be custom designed to suit your needs, making them the perfect solution when you need plenty of space for work or storage.
Why work with Pilbara Sheds?
When you decide to work with Pilbara Sheds on your commercial, industrial or mining project, you will have the peace of mind knowing you're working with the best, locals in the industry. Our experienced team are available to assist you through all stages of the design process and to ensure you create the best steel building for your business. Our advanced quoting system means you'll be aware of all costs up front before commencing the project.
More Information
If you want to explore the range of Pilbara Sheds commercial, industrial or mining shed options, then get in touch with the team by calling us on 9185 1089 or by submitting an online contact enquiry. We are more than happy to help you explore the different options available to your business and create you the perfect shed solution.