More Than Just Storage: Setting Your Shed up For Success
Contact us for more information about building your next patio or carport.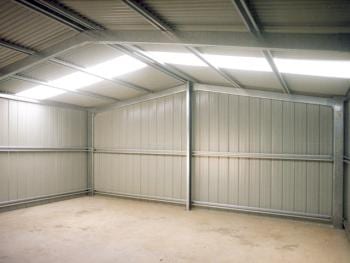 When you think of a shed what comes to mind? Maybe you've got a shed at home or work that is filled to the brim with boxes and junk? Maybe you think of a half empty shed with just a few pieces of bulky equipment? But did you know that with the proper planning and accessories a shed can be so much more than a storage space?
The Pilbara Shed team knows everything there is to know about sheds and we can work with you to create the space of your dreams. Whether you're after a man shed, a play room for the kids or an office space for your business, with a couple of additional extras we can turn a standard residential or commercial shed into a fully functional space. Here are some of the Options and Accessories we can construct within your shed;
Partition Walls to Create Separate Spaces
You've been dreaming it up for a while and decided this is the time to build a new residential shed on your property where you can set the kids up with a playroom. It's the type of game changer most mums would understand – all the big toys, play things and activities all out of your lounge room and into the newly constructed shed. But your hubby has other ideas, if he's getting a shed he wants it to be a man shed – TV, couches, maybe a pool table and of course a beer fridge. Instead of battling it out why not include a partition wall in the shed so that you can have both separate areas? Of course windows and doors will be required to create truly functional rooms but a partition wall is a great first step into creating a customised space perfect for your family. 
Give Yourself Easy Access and Security with Personal Access Windows, Doors and Security Screens
Building the perfect functional shed is all about creating an easy to use and well organised space. Our team is able to install personal access doors wherever required on the building to make sure you have easy access to the inside. Windows can be placed at different points (depending on the size of the shed) to create a spacious internal feel and offer added ventilation and natural light.
Depending on what is being put inside of your shed you may have the need for security screens on the windows and doors. This will ensure your valuables and personal space is safe and deter people from potential theft or vandalism.
Ventilation and Skylights
Natural light and ventilation can turn any stuffy and dark storage shed into a beautiful and usable area. When using a shed for more than just storage, a shed often becomes an extension of your home. 
Our skylights range from standard opaque fibreglass to the more durable and UV blocking polycarbonate skylights. Skylights are an affordable and great way to bring in more natural light to your building making it a more inviting space. The proper ventilation within your shed is also an important thing to consider for the comfort of you and your family. As we all know, the Pilbara is hot and ensuring your shed is well ventilated is a good way to keep the people inside able to use the space even in the warmer weather.
Insulate Your Shed To Keep on Top of the Unpredictable Weather
In addition to the proper ventilation of your shed, another important optional accessory you can install to ensure your shed is a more functional space is insulation. Insulation helps regulate the temperature of a building, keeping your shed cooler in summer and warmer during the colder winter nights.
More Information
For more information about creating a shed that is more than just a space for storage, get in touch with the Pilbara Sheds team by giving us a call on 9185 1089 or submitting an Online Contact Enquiry. We will be able to talk you through our range of options and accessories to make sure your shed lives up to its full potential.