Stay protected from the sun with a Pilbara Sheds patio or carport
Contact us for more information about building your next patio or carport.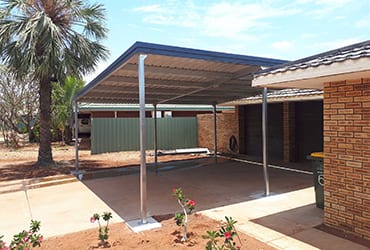 Being a Pilbara local you're probably no stranger to the hot weather. Our summers experience heat waves, dry winds and regular maximum temperatures over 40 degrees. When it comes to the heat there are many things you can do to escape it – good air conditioning, lots of swimming and of course, a well insulated home. But coming into the warmer months it might be time to take your home or business to the next level to be able to protect yourself from the sun and heat.
 This month we take a look at some ways Pilbara Sheds can help you stay extra sun smart this summer and beyond.
Stay out of the sun with a patio to suit your budget
Whether you have an existing patio that is outdated or extra space on your property that you'd like to use to create an entertaining space, Pilbara Sheds can help. In Australia we have a strong emphasis on our mates…we love to have friends over for a BBQ and a couple of beer, poker nights and spend summer's having dinner by the pool. The best way to have your friends over is by making sure you have an adequate entertaining area to keep everyone cool and protected from the heat. We have a wide range of patio options that differ in cost, size and design. All of our products are produced to the highest standards and are made to withstand the unpredictable Pilbara weather. 
Protect your vehicle no matter how big or small with a stylish carport
Like many things in the Pilbara your cars, machinery and boats are not immune to the harsh weather. A carport is a great investment to protect some of your most loved assets. When it comes to the damage the sun can do to your car Gotu suggests, "Australian sun can oxidise your car's paint. Ultraviolet (UV) rays not only cause damage to your skin – but they also affect your car, causing your paint to fade". The Pilbara is known for high temperatures and therefore high UV levels which makes it even more important to protect your vehicles. We design practical, inexpensive and custom built carports that can fit almost any piece of equipment. Not only will it look stylish but it will also keep your vehicles protected from environmental factors.
Pilbara Shed patios and carports are custom built to suit your space
Whether you need a carport to suit your car and boat, or a new entertaining area our team can work with you to custom build your structure to suit the space you have available on your property. We are able to choose the span, length and height of your carport to ensure any vehicle from a standard size car to oversized machinery or a boat will fit well. Our extensive knowledge of our industry and the local environment means we are able to coordinate with you the perfect structure to suit your needs.
More information
If you're after more information or would like to have a chat about looking into options for your new patio or carport then give us a call on 9185 1089 or by submitting an enquiry on our Online Contact Form.