The Importance Of ShedSafe Accreditation When Purchasing Your Next Shed
Cum sociis natoque penatibus et magnis dis parturient montes, nascetur ridiculus.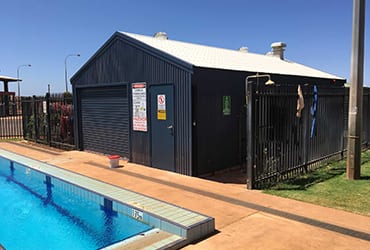 At Pilbara Sheds we know the importance of providing our customers with high quality, safe and affordable shed products. As a ShedSafe Accredited provider, all our sheds have the ShedSafe tick of approval. But as one of our customers, you might be asking yourself what does ShedSafe Accreditation actually mean? Why is it important when purchasing a shed? This month we take a look at some of the most common questions we receive about our ShedSafe Accreditation so you can be well informed when making your next purchase.
What is ShedSafe Accreditation?
ShedSafe describe themselves as "the industry benchmark for Australian manufactured steel sheds". As a third party accreditation program, ShedSafe assists shed buyers to have the peace of mind and confidence in the shed they're purchasing that it meets a rigorous set of standards and testing. 
Who manages ShedSafe?
The accreditation program is managed by the Australian Steel Institute which is Australia's peak steel industry body. 
Why is it important to purchase a shed from a ShedSafe accredited provider?
Over the last few years there has been a large increase in storms across Australia that destroy homes, sheds and other structures in their path. As a result, the Australian Steel Institute has produced a "Design Guide for Cold Formed Portal Frame Sheds". The ShedSafe Accreditation program uses this guide as well as the Building Code of Australia to create its third party review process.
ShedSafe Accreditation gives Australian buyers the confidence in the engineering, steel products and site specifications of the steel shed they are purchasing. Purchasing a ShedSafe Accredited product means that your new shed is:
Constructed by an appropriately licenced person,

Approved by the local regulatory authority,

Engineered using accredited processes and,

Recommended based on a specification suitable for your site.
ShedSafe Accreditation is extremely important, particularly when based in a regional location such as the Pilbara. It ensures a shed is capable of withstanding the Pilbara weather such as storms, extreme heat and cyclones. All of our shed's are also Category D Rated, which means they are built to withstand Australia's strongest cyclone exposure. This is a requirement when building a shed within the Pilbara region. 
How do I know a company is ShedSafe Accredited?
If a business is ShedSafe Accredited, like Pilbara Sheds, you should be able to find their current ShedSafe Accreditation certificate on their website as well as the ShedSafe logo (pictured below). 

On the Pilbara Shed's website, we make reference to our Accreditation in our website footer as we are extremely proud to meet this rigorous standard.
More Information
For more information regarding our ShedSafe Accreditation or to receive an obligation free quote get in contact with our team today by calling 9185 1089 or by submitting an Online Contact Form and someone will be in touch with you to discuss.